The THE IMPLEMENTATION OF ENGLISH LANGUAGE SKILLS TEACHING AND LEARNING DURING THE PANDEMIC OF COVID-19
Tri Pujiani

Universitas Harapan Bangsa

Putra Akbar Wibawa

Nur Azzizatun Zahro

Intan Fadilah Iryaninda
Keywords:
online learning, covid-19, English Language Skills, English Language Teaching
Abstract
Since March 2020, based on Circular letter dated 4 March 2020, Indonesia has implemented online learning to stop the outbreak of covid-19 virus. This immediate shift requires many adjustments, especially in skill subjects such as English Language Skills. This research aimed to describe the implementation of English Language Skills teaching during covid-19 pandemic in some universities in Indonesia. This research was a descriptive qualitative research with questionnaire used to obtain the data. The respondents of this research were English lecturers from some universities in Indonesia as many as 25 lecturers. The result showed that the biggest problem in online learning was internet connection. The lecturers were required to enhance their technology literacy and to be creative in designing the learning process to motivate the students to learn. Besides, the students needed to be more active in searching learning sources independently. The active participations of both lecturers and students are definitely important for the effectiveness of online teaching and learning. It is expected that this research may be reference for all education practitioners in implementing online learning for English Language Skills subjects
References
Adedoyin, O. B., & Soykan, E. (2020). Covid-19 pandemic and online learning: the challenges and opportunities. Interactive Learning Environments. https://doi.org/10.1080/10494820.2020.1813180
Asmara, R. (2020). Teaching English in a Virtual Classroom Using Whatsapp During Covid-19 Pandemic. Language and Education Journal, Vol. 5, pp. 16–27. Retrieved from http://ejournal.uniski.ac.id/index.php/LEJ/article/view/152
Chaeruman, U. A. (2020). 5 Langkah Jitu Blended Learning. Webinar AIPNI Regional VII.
Cynthia, A. R. A. C. (2014). EFEKTIVITAS METODE COMMUNICATIVE LANGUAGE TEACHING (CLT) DALAM MENINGKATKAN KEMAMPUAN KOMUNIKASI BERBAHASA INGGRIS PESERTA KURSUS DI PQEC INSTITUTE.
Hafidz, M. (2020). the Dilematic on-Line English Learning During the Covid-19 Pandemy in Rural Area. Journal of English Teaching, Applied Linguistics and Literatures (JETALL), 3(2), 43. https://doi.org/10.20527/jetall.v3i2.8884
Hamzah Fansury, A., Januarty, R., & Wira Rahman, A. (2020). 西 南 交 通 大 学 学 报 Digital Content for Millennial Generations: Teaching the English Foreign Language Learner on Covid-19 Pandemic 千禧一代的数字内容:在新冠肺炎大流行中讲英语的外国语言学 习者. Journal of Southwest Jiaotong University, 55(3). https://doi.org/10.35741/issn.0258-2724.55.3.40
Huang, R., Tlili, A., Chang, T. W., Zhang, X., Nascimbeni, F., & Burgos, D. (2020). Disrupted classes, undisrupted learning during COVID-19 outbreak in China: application of open educational practices and resources. Smart Learning Environments. https://doi.org/10.1186/s40561-020-00125-8
Husain, N. (2015). What is Language ? English Language Language as Skill. Language and Language Skills, (March), 1–11. Retrieved from https://www.researchgate.net/publication/274310952
Karataş, T. Ö., & Tuncer, H. (2020). Sustaining language skills development of pre-service EFL teachers despite the COVID-19 interruption: A case of emergency distance education. Sustainability (Switzerland). https://doi.org/10.3390/su12198188
Kizilaslam, I. (2011). Elt Student Teachers' Competence for Teaching Language Skills: a Qualitative Exploration. International Journal of Social Sciences and Humanity Studies, 3(1), 161–169.
Pujiani, T., & Krisbiantoro, B. (2019a). A COMPARATIVE STUDY ON THE IMPLEMENTATION OF FLIPPED LEARNING AND BLENDED LEARNING IN TEACHING ENGLISH FOR NURSING AT HARAPAN BANGSA UNIVERSITY. 2nd International Conference on Linguistics (IC-Ling) Arabic & English "Current Issues on Linguistics, Literature, Translation, and Language Teaching, 199–205.
Pujiani, T., & Krisbiantoro, B. (2019b). E-learning for industry 4.0 and Its Effectiveness for Improving Students' Learning Motivation. International Conference on Innovation in Education: Oppertunities and Challenges in Southeast Asia, 15–41.
Reimers, F., Schleicher, A., Saavedra, J., & Tuominen, S. (2020). Supporting the continuation of teaching and learning during the COVID-19 pandemic. Oecd.
Suputra, P. E. D., Nitiasih, P. K., & Paramarta, I. M. S. (2020). Kelas Daring Bahasa Inggris di Masa Pandemi : Sebuah Tantangan Pembelajaran. Seminar Nasional Riset Inovatif.
Susilowati, R. (2020). The Challenge of Online Learning in Listening Class During Pandemic Covid-19. Jurnal Elsa, Volume 18, No. 2, September 2020, 18(2), 57–72.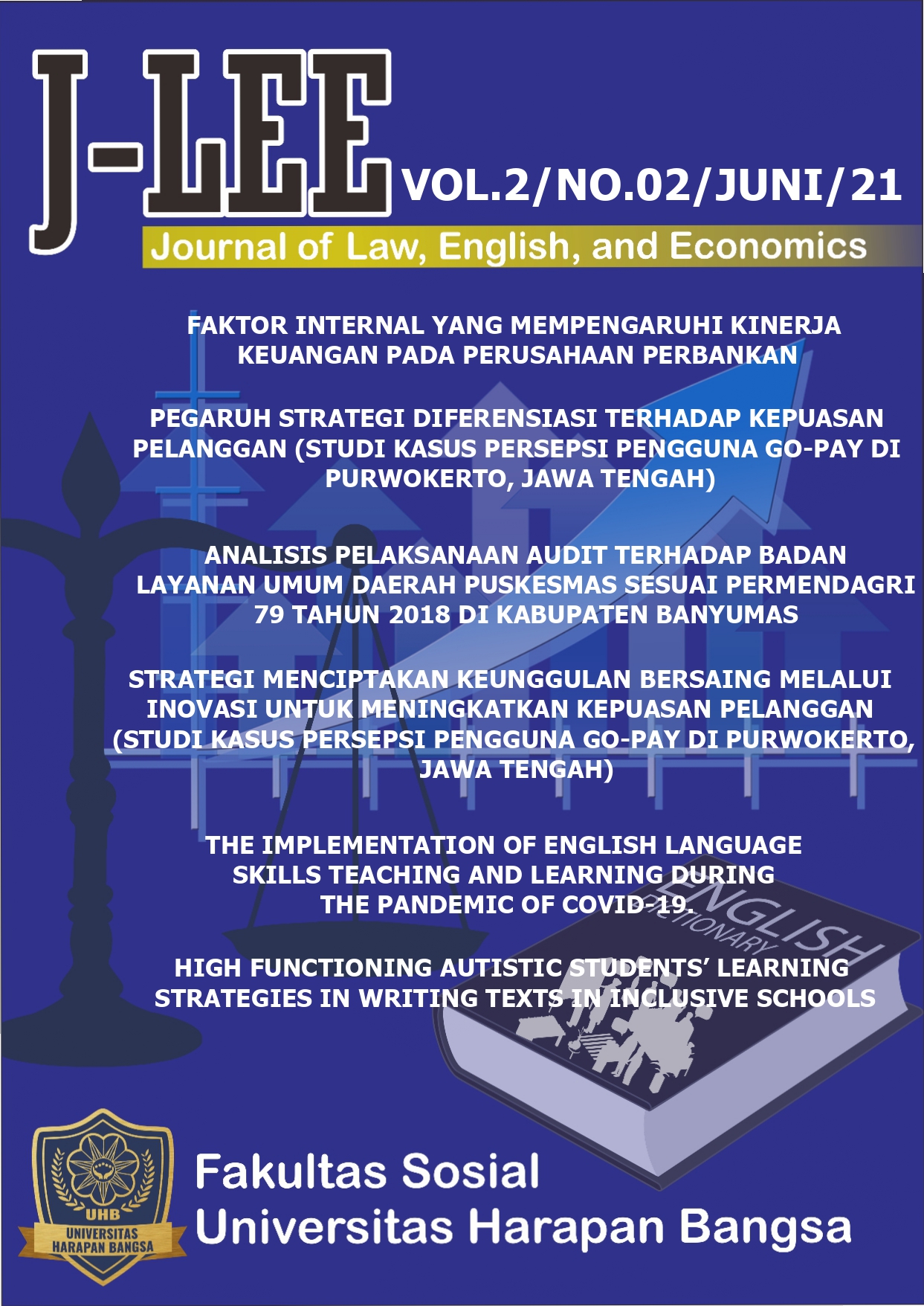 This work is licensed under a Creative Commons Attribution 4.0 International License.