Pelatihan Bagi Guru Dan Siswa –Siswi Ma Ishlahul Amanah untuk Mengetahui Proteksi Sistem PLTS Sederhana
Desri Kristina Silalahi

Telkom University

Kharisma Bani Adam

Telkom University

Porman Pangaribuan

Telkom University
Keywords:
solar energy, protection, solat power, generation, system
Abstract
Maximum utilization of solar energy requires the active role of the community. Several things can be done, namely by providing information related to solar energy with the large potential that can be obtained in its utilization. In addition, coaching to the community by providing basic knowledge about energy conversion from solar to electricity as well as practicing in proving the basic knowledge provided in the form of simple practice. Thus, the public can understand this solar energy as a whole, both with basic knowledge, conversion techniques, and practice. In Community Service activities by providing training related to the protection of the Solar Power Generation system or usually called PLTS. With the target participants, namely teachers and students of MA Ishlahul Amanah in Pengalengan District, Bandung Regency. The main activity is providing protection training and a set of PLTS as a learning medium for the use of new and renewable energy in the form of solar energy. Students today are required to be more creative and innovative in utilizing all the potential of nature, especially the use of alternative technologies, one of which is solar energy. The canning area is also a challenge in itself in the use of electricity technology for the need for support by using solar energy for electricity use. The results of this activity provide a positive appreciation. This can be seen from the evaluation of the activities carried out that participants, both students and teachers, chose to agree and strongly agree with the items in the written statement
References
Azis, H., Pawenary, & Sitorus, M. (2019). Analisis Hasil Uji Pembangkit Listrik Hybrid Turbin Angin 1kWh Dan Panel Surya 100 W. Jurnal Ilmiah Sutet, 9(1), 16–25.

Bayu, H., & Windarta, J. (2021). Tinjauan Kebijakan dan Regulasi Pengembangan PLTS di Indonesia. Jurnal Energi Baru & Terbarukan, 2(3), 123–132.

Kurniawan, E., Priharti, W., & Silalahi, D. K. (2019). Penyuluhan Penggunaan Listrik dari Sumber Energi Surya Di Pesantren Al Mukarramah Kabupaten Bandung. Ethos : Jurnal Penelitian Dan Pengabdian Kepada Masyarakat, 7(2), 355–361.

Laporan Kinerja Direktorat Jenderal Energi Baru, Terbarukan, dan Konservasi Energi Tahun 2019. (2019).

Purwanto, S. (2021). Penerapan Teknologi Pembangkit Listrik Tenaga Surya (PLTS) Untuk Mendukung Terwujudnya Kemandirian Energi Listrik Di Pesantren Raudhatul Ishlah, Tangerang Selatan. TERANG, 3(2).
https://doi.org/10.33322/terang.v3i2.1034

Setyono, J. S., Mardiansjah, F. H., Astuti, M. febrina K., & S. (2019). Potensi Pengembangan Energi Baru dan Energi Terbarukan di Kota Semarang. Riptek, 13(2).

Sinarep, Mirmanto, Nurpatria, & Sulistyowati, E. D. (2021). Instalasi solar panel sederhana untuk petani di lokasi terpencil desa darek. Prosiding PEPADU 2021, 616–621.

Sukmajati, S., & Hafidz, M. (2015). Perancangan Dan Analisis Pembangkit Listrik Tenaga Surya Kapasitas 10 MW On Grid Di Yogyakarta. Jurnal Energi & Kelistrikan, 7(1), 49–63.

Usman, M. (2020). Analisis Intensitas Cahaya Terhadap Energi Listrik yang Dihasilkan Panel Surya. Power Elektronik: Jurnal Orang Elektro, 9(2). https://doi.org/10.30591/polektro.v9i2.2047

Yunus, M., Abbas, H., Harisun, E., Hamsir, I., & Sardju, A. P. (2021). Sosialisasi Pemanfaatan Pembangkit Listrik Tenaga Surya (PLTS) Di Desa Tawa Kabupaten Halmahera Selatan. Journal of Khairun Community Services, 1(1).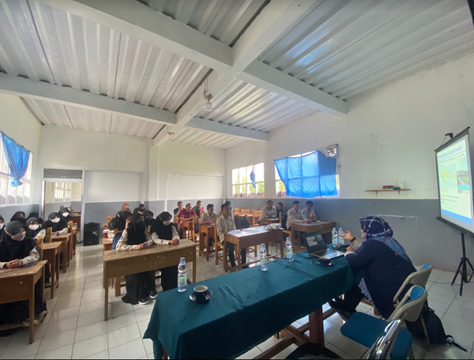 How to Cite
Silalahi, D., Adam, K., & Pangaribuan, P. (2022). Pelatihan Bagi Guru Dan Siswa –Siswi Ma Ishlahul Amanah untuk Mengetahui Proteksi Sistem PLTS Sederhana. Jurnal Pengabdian Masyarakat - PIMAS, 1(3), 129-137. https://doi.org/https://doi.org/10.35960/pimas.v1i3.822