Meningkatkan Pengetahuan dan Minat Gen-Z untuk Berkarir di Dunia Startup dengan Webinar "Startup for Gen-Z: Is It Possible?"
Slamet Slamet

Universitas Harapan Bangsa

Purwono Purwono

Universitas Harapan Bangsa

Sony Kartika Wibisono

Universitas Harapan Bangsa

Bala Putra Dewa

Universitas Harapan Bangsa
Keywords:
generation z, startup, webinar
Abstract
Indonesia is one of the countries with the best startup developments in the world which ranks 6th in the country with the highest number of startups. However, the quality of Indonesian human resources, which are able to meet the qualifications of startup companies, is still low. To that end, the devotees do community service, namely by holding a webinar with the theme "Startup for Gen-Z, Is It Possible?". This webinar aims to motivate, increase knowledge, and provide guidance to webinar participants, especially Generation Z, for a career in the startup world. Gen-Z can be a founder or work in a startup company. In addition, Gen-Z can also take advantage of startups to start small businesses. The stages of implementing this service are analysis, problem determination, solutions offered, outcomes, and evaluation. Participants expressed a high level of satisfaction with the implementation of the webinar "Startup for Gen-Z: Is It Possible?" with an average satisfaction evaluation result of 4,635 Likert scale 1 to 5.
References
Arrum, A.H. dan Fuada, S. (2021). Penyelenggaraan webinar "Peluang menjadi freelancer teknologi digital berbasis motion graphic di masa pandemi Covid-19". Community Empowerment. Vol.6 No.10. pp. 1757-1767.

Azmy, A. (2022). Webinar Pengabdian Kepada Masyarakat Implementasi Indikator Kinerja Dalam Dunia Bisnis. Jurnal Pengabdian Pada Masyarakat. Vol.7 No 2. Pp. 263-274.

Biantong, J.S. dan Krisnadi, I. (2022). Pengaruh It Bootcamp dalam Mencetak Tech Talent di Era Industri 4.0 di Indonesia. Academia.

Blank, S. dan Dorf, B. (2020). The Startup Owner's Manual. New Jersey: John Wiley & Sons, Inc.

Dimock, M. (2019). Defining Generations: Where Millennials End and Generation Z Begins. Pew Research Center.

Dolot, A. (2018). The Characteristics of Generation Z. E-mentor. Hal. 44–50.

MIKTI. (2021). Mapping & Database Startup Indonesia 2021. Indonesia Digital Creative Industry Society.

Ries, E. (2011). The Lean Startup: How Today's Entrepreneurs Use Continuous Innovation to Create Radically Successful Business. Published by Crown Business. New York: Random House, Inc.

_____. (2022). Countries Startup Rangking. startupranking.com (diakses pada 02 Agustus 2022).

_____. (2020). Hasil Sensus Penduduk 2020. bps.go.id (diakses pada 02 Agustus 2022).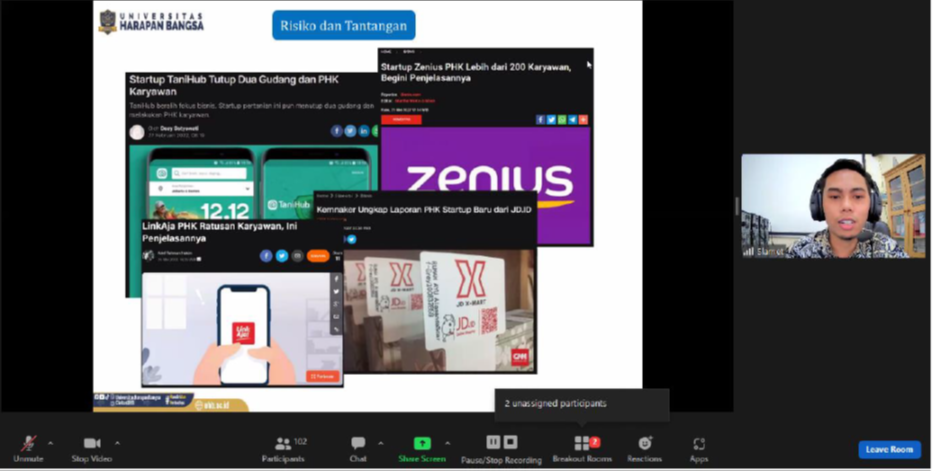 How to Cite
Slamet, S., Purwono, P., Wibisono, S., & Dewa, B. (2022). Meningkatkan Pengetahuan dan Minat Gen-Z untuk Berkarir di Dunia Startup dengan Webinar "Startup for Gen-Z: Is It Possible?". Jurnal Pengabdian Masyarakat - PIMAS, 1(3), 122-128. https://doi.org/https://doi.org/10.35960/pimas.v1i3.834