PENGARUH PENGETAHUAN DAN DUKUNGAN KELUARGA TERHADAP SELF CARE MANAJEMENT PADA PENDERITA HIPERTENSI DENGAN PENDEKATAN TEORI DOREOTHEA E OREM
Ike Pramadaningati

Sekolah Tinggi Ilmu Kesehatan Kepanjen

Wiwit Dwi Nurbadriyah

Sekolah Tinggi Ilmu Kesehatan Kepanjen Malang

Riza Fikriana

Sekolah Tinggi Ilmu Kesehatan Kepanjen Malang
Keywords:
Knowledge, Family support, self-care management, hypertension
Abstract
Self care management in patients with hypertension is an individual's ability to carry out self-activities to maintain life, improve and maintain health for individual well-being to avoid complications. The purpose of this study was to analyze the effect of knowledge and family support on Self-care Management in Hypertensive Patients with Dhorothea E Orem Theory Approach. This type of research is a quantitative study, using andesign analytical descriptive with aapproach cross-sectional. Samples were taken using a purposive sampling technique in the elderly posyandu in Pamotan Village as many as 65 respondents. Data collection was done by distributing questionnaires to respondents. The statistical test used is multiple linear regression analysis test. The results show that there is an influence on the knowledge variable with a  p-value 0.004 and a regression coefficient of 1.051, and there is an influence on thesupport variable familywith a p-value of 0.007 and a regression coefficient value of 0.248. Based on these statistical results, it was concluded that the variables of knowledge and family support had an effect on self-care management in patients with hypertension.
References
Anshari, Z. (2020). Komplikasi Hipertensi Dalam Kaitannya Dengan Pengetahuan Pasien Terhadap Hipertensi Dan Upaya Pencegahannya. Jurnal Penelitian Keperawatan Medik, 2(2). Retrieved From Http://Ejournal.Delihusada.Ac.Id/Index.Php/Jpkm/Article/View/289
Amila, A., Sinaga, J., & Sembiring, E. (2018). Self Efficacy Dan Gaya Hidup Pasien Hipertensi. Jurnal Kesehatan, 9(3), 360. Https://Doi.Org/10.26630/Jk.V9i3.974
Dinkes Provinsi Jawa Timur. (2019). Profil Kesehatan Jawa Timur 2018. Dinas Kesehatan Provinsi Jawa Timur, 100. Retrieved From Https://Www.Google.Com/Search?Client=Firefox-B-D&Ei=Zxpwxtiekq6c4-Epzvsfyas&Q=Profil+Kesehatan+Jawa+Timur+2018&Oq=Profil+Kesehatan+Jawa+Timur+2018&Gs_L=Psy-Ab.3..0i7i30l10.98332.105008..105951...0.4..0.1459.7810.2-1j0j2j2j2j3......0....1..Gws-Wiz.......0i
Efendi, H., & Larasati, T. A. (2017). Dukungan Keluarga Dalam Manajemen Penyakit Hipertensi. Majority, 6(1), 34–40. Retrieved From File:///C:/Users/User/Downloads/1527-2238-1-Pb.Pdf
Isnaini, N., & Lestari, I. G. (2018). Pengaruh Self Management Terhadap Tekanan Darah Lansia Yang Mengalami Hipertensi. Indonesian Journal For Health Sciences, 2(1), 7–18. Https://Doi.Org/10.24269/Ijhs.V2i1.2018.Pp7-18
Mahfud, M., Barasila, B., & Indrayani, S. (2019). Dukungan Sosial Berhubungan Dengan Self Care Management Pada Lansia Hipertensi Di Puskesmas Sedayu Ii. Dinamika Kesehatan Jurnal Kebidanan Dan Keperawatan, 10(2), 700–712. Https://Doi.Org/10.33859/Dksm.V10i2.463
Moradi, M., Nasiri, M., Jahanshahi, M., & Hajiahmadi, M. (2019). The Effects Of A Self-Management Program Based On The 5 A's Model On Self-Efficacy Among Older Men With Hypertension. Nurs Midwifery Stud, 8(1), 21–27.
Palit, J. A., Rakinaung, N. E., & Bunga, A. L. (2017). Fektifitas Penyuluhan Kesehatan Tentang Primary Self Management Pada Penderita Hipertensi Di Desa Tumatantang Wilayah Kerja Puskesmas Lansot Kota Tomohon. Universitas Katolik De La Salle.
Retnanigsih , R. (2016, Oktober ). Hubungan Pengetahuan Dan Sikap Tentang Alat Pelindung Telinga Dengan Penggunaannya Pada Pekerja Di PT. X. Journal of industrial hygiene and Occupational Health, Vol. 1, No 1, 67-82.
Romadhon , W. A., Aridamayanti, B. G., Syanif, A. H., & Sari, M. G. (2020, Maret-April). Faktor-Faktor Yang Mempengaruhi Self-Care Behavior Pada Klien Dengan Hipertensi Di Komunitas. Jurnal Penelitian Kesehatan Suara Forikes, Vol. 11, 37-41
Salami, & Wilandika, A. (2018). HUBUNGAN EFIKASI DIRI DAN DUKUNGAN SOSIAL DENGAN SELF CARE MANAGEMENT PENDERITA HIPERTENSI DI WILAYAH KERJA PUSKESMAS CIJAGRA LAMA BANDUNG Salami1. Jurnal Keperawatan 'AISYIYAH, 5(2), 79–97.
Sagala, L. M. (2019). Pengaruh Hypertention Self Management Education ( Hsme) Terhadap Tekanan Darah Di Puskesmas Kabanjahe. Indonesian Trust Health Journal, 2(1), 121–127. Https://Doi.Org/10.37104/Ithj.V2i1.23
Setiyaningsih, R., & Ningsih, S. (2019). Pengaruh Motivasi, Dukungan Keluarga Dan Peran Kader Terhadap Per ilakuPengendalian Hipertensi. IJMS – Indonesian Journal On Medical Science, 6(1), 79–85. Retrieved from http://ejournal.ijmsbm.org/index.php/ijms/article/viewFile/173/173
Sukinah, S., Ratu, J. M., & Weramas, P. (2020). Hubungan Antara Karakteristik Demografi Dan Pengetahuan Dengan Self Management Hipertensi Pada Masyarakat Suku Timor: Penelitian Cross Sectional. Jurnal Penelitian Kesehatan Suara Forikes, 11(2), 245–252.
Suryadi, B & Haizurrachman. (2017). Petugas Kesehatan, Keluarga, Lingkungan Kerja, Motivasi Terhadap Gaya Hidup Penderita Hipertensi.
Jurnal Ilmiah Kesehatan, Vol. 16 No. 2
Tarigan, A. R., Lubis, Z., & Syarifah, S. (2018). Pengaruh Pengetahuan, Sikap Dan Dukungan Keluarga Terhadap Diet Hipertensi Di Desa Hulu Kecamatan Pancur Batu Tahun 2016. Jurnal Kesehatan, 11(1), 9–17. https://doi.org/10.24252/kesehatan.v11i1.5107
Tumenggung, I. (2013). Hubungan Dukungan Sosial Keluarga Dengan Kepatuhan Diet Pasien Hipertensi Di Rsud Toto Kabila Kabupaten Bone Bolango. Jurnal Kesehatan Politeknik Kesehatan Gorontalo, 9(16), 100–105. Retrieved From Http://Ejurnal.Ung.Ac.Id/Index.Php/Jhs/Article/View/1085
Yonata , A., & Pratama , A. S. (2016, September ). Hipertensi Sebagai Faktor Pencetus Terjadinya Stroke. Jurnal Majority, Vol. 5 No. 3, 17-21.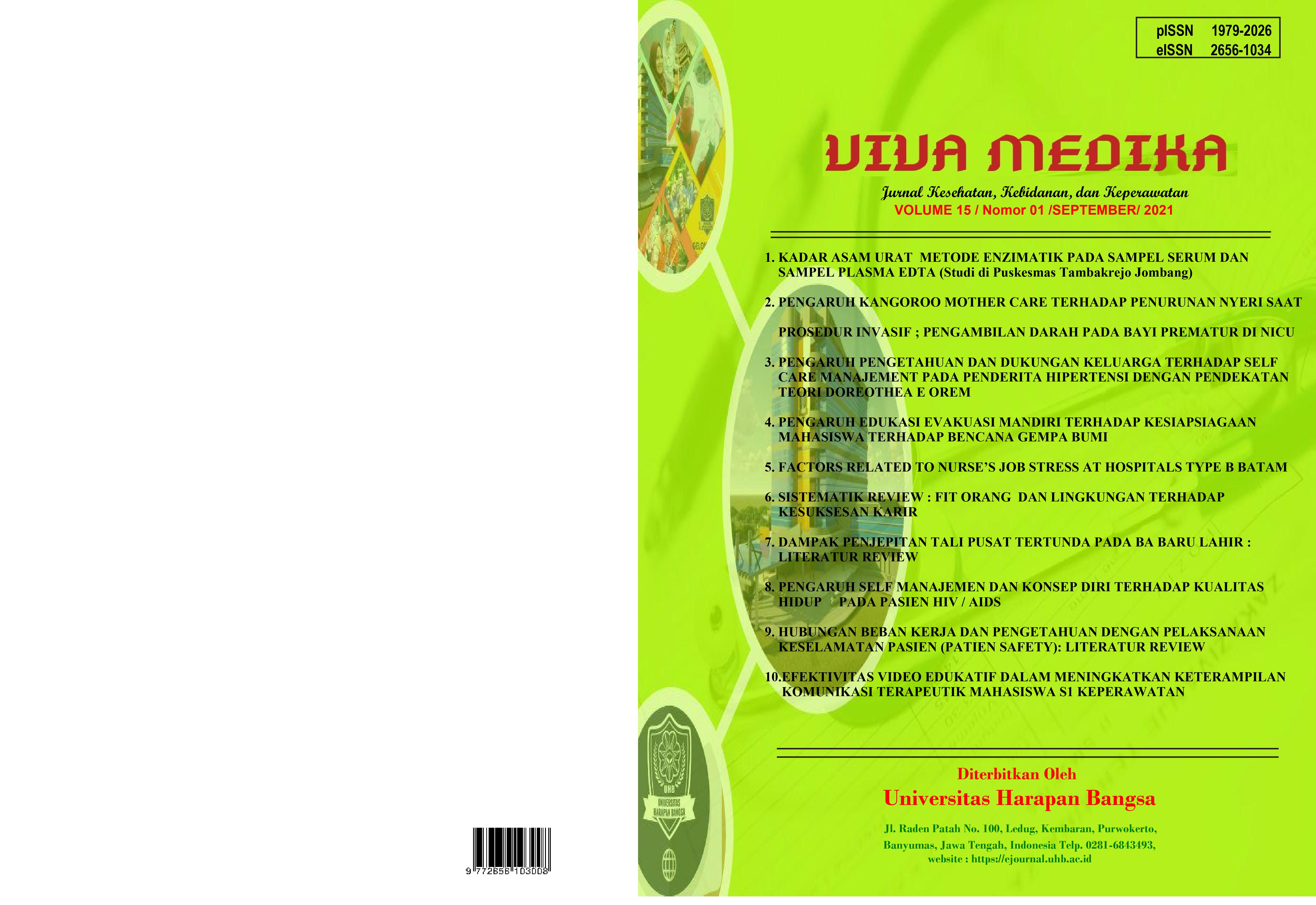 How to Cite
Pramadaningati, I., Nurbadriyah, W., & Fikriana, R. (2022). PENGARUH PENGETAHUAN DAN DUKUNGAN KELUARGA TERHADAP SELF CARE MANAJEMENT PADA PENDERITA HIPERTENSI DENGAN PENDEKATAN TEORI DOREOTHEA E OREM. Viva Medika: Jurnal Kesehatan, Kebidanan Dan Keperawatan, 15(01), 21-23. https://doi.org/https://doi.org/10.35960/vm.v15i01.668
This work is licensed under a Creative Commons Attribution 4.0 International License.
Submitted paper will be firstly reviewed by the editors to determine whether the paper meet the edition theme and submission guidelines. Papers which meet the theme and the guidelines will be assigned to selected reviewers for peer-reviews. Viva Medika: Jurnal Kesehatan, Kebidanan dan Keperawatan is a double blind peer-reviewed journal which involves reviewers based on their experties relevant to the topic of the paper. Final decision of paper acceptance is solely decided by the editors according to reviewers' comment.
Plagiarism and self-plagiarism are prohibited. Viva Medika: Jurnal Kesehatan, Kebidanan dan Keperawatan uses PlagiarismCheckerX and iThenticate to scan papers for detecting plagiarism. Thus, Appropriate citation and quotation should be used