DAMPAK PENJEPITAN TALI PUSAT TERTUNDA PADA BAYI BARU LAHIR : LITERATUR REVIEW
Dampak penyempitan Tali Pusat
Sulistyowati Sulistyowati

Departemen Marternity of Politeknik Yakpermas Banyumas
Keywords:
BBLR, Pejempitan Tali pusat
Abstract
ABSTRACT
The umbilical cord is an essential life-sustaining support that represents a strong connection to the fetomaternal interface, functioning to support fetal development and fetal neuro-motor development. When the baby is born, the umbilical cord is cut, and there is a residual stump that must dry and fall off by day 5 to 15 after birth. In the active management of the third stage of labor, the World Health Organization (1998) recommends clamping the umbilical cord early for 1 minute. While The American College of Obstetricians and Gynecologists (ACOG) recommends delaying the clamping of the umbilical cord early / immediately after the baby is born, so when is the best time to clamp the umbilical cord after the baby is born is still controversial. This study aims to determine the effect of delayed umbilical cord clamping on newborns. Either positive or negative impact. Methods: Literature search involving the Science Direct database and published articles published between 2016-2021 with the key words effect the timing of umbilical cord Clamping; Results: 7 articles discussed the effect of the timing of umbilical cord clamping in infants. The results in the analysis revealed the impact of delaying umbilical cord clamping, both positive and negative impacts. Conclusion: Delayed cord clamping of more than 5 minutes has been shown to have lower residual placental blood volume. This is associated with higher ferritin levels and hemoglobin levels. Researchers chose to use a cord clamping time of more than 5 minutes (more than 60%) because delayed cord clamping in newborns is a vulnerable part of the population. It is important to continue to investigate further to identify the impact of delayed clamping on infants.
References
REFERENSI

Ashish, Mats Malqvist, Nisha Rana, Linda and Ola Andersson (2016) Effect of timing of umbilical cord clamping on anaemia at 8 and 12 months and later neurodevelopment inlate pre-term and term infants; a facility-based, randomized-controlled trial in Nepal BMC Pediatrics (2016)16:35 DOI 10.1186/s12887-016-0576-z

Fatma Alzaree, Ahmed Elbohoty et al., (2018) Early Versus Delayed Umbilical Cord Clamping on Psysiologic Anemia of the Term Newborn Infant an Journal of Medical Sciences. 2018 Aug 20; 6(8):1399-140 4 .

Koll,Bauwer, Akker, DeKoninck, Geloven, Polglase, Lopriore, Herkert, Reiss, Hooper, Pas (2020) Timing of umbilical cord clamping and neonatal jaundice in singleton term pregnancy www elsever.com/locate/resuscitation

Mercer Debra A. Erickson-Owens, Sean C.L. Deoni, Douglas C. Dean, Jennifer Collins, Ashley B. Parker, Meijia Wang, Sarah Joelson, Emily N. Mercer, James F. Padbury. (2016) Effects of Delayed Cord Clamping on 4-Month ferritin level, brain myelin content and neurodevelopment: a randomized controlled trial The Journal of pediatrics

Nouraic S, Amir Ali Akbari, Vameghi, Akbarzadch Baghba (2019) The effect of the timing of umbilical cord clamping on hemoglobin levels, neonatal outcomes and developmental status in infants at 4 months old Iran J Child Neurol Winter 2019 Vol 13 No1

Shinohara, Yaeko Kataoka dan Yukari Yayu (2021) Effects of timing of umbilical cord clamping on preventing early infancy anemia in low risk Japanese term infants with planned breastfeeding: randomized controlled trial Maternal Health, Neunatologi and Perinatology htttp:// doi.org/10.1186/s40748-021-00125-7

Yiyu Qian, Qiujing Lu, Shao, Ying, Huang, Hua (2020) Timing of umbilical cord clamping and neonatal jaundice in singleton term pregnancy Early Human Development 142 (2020) 104948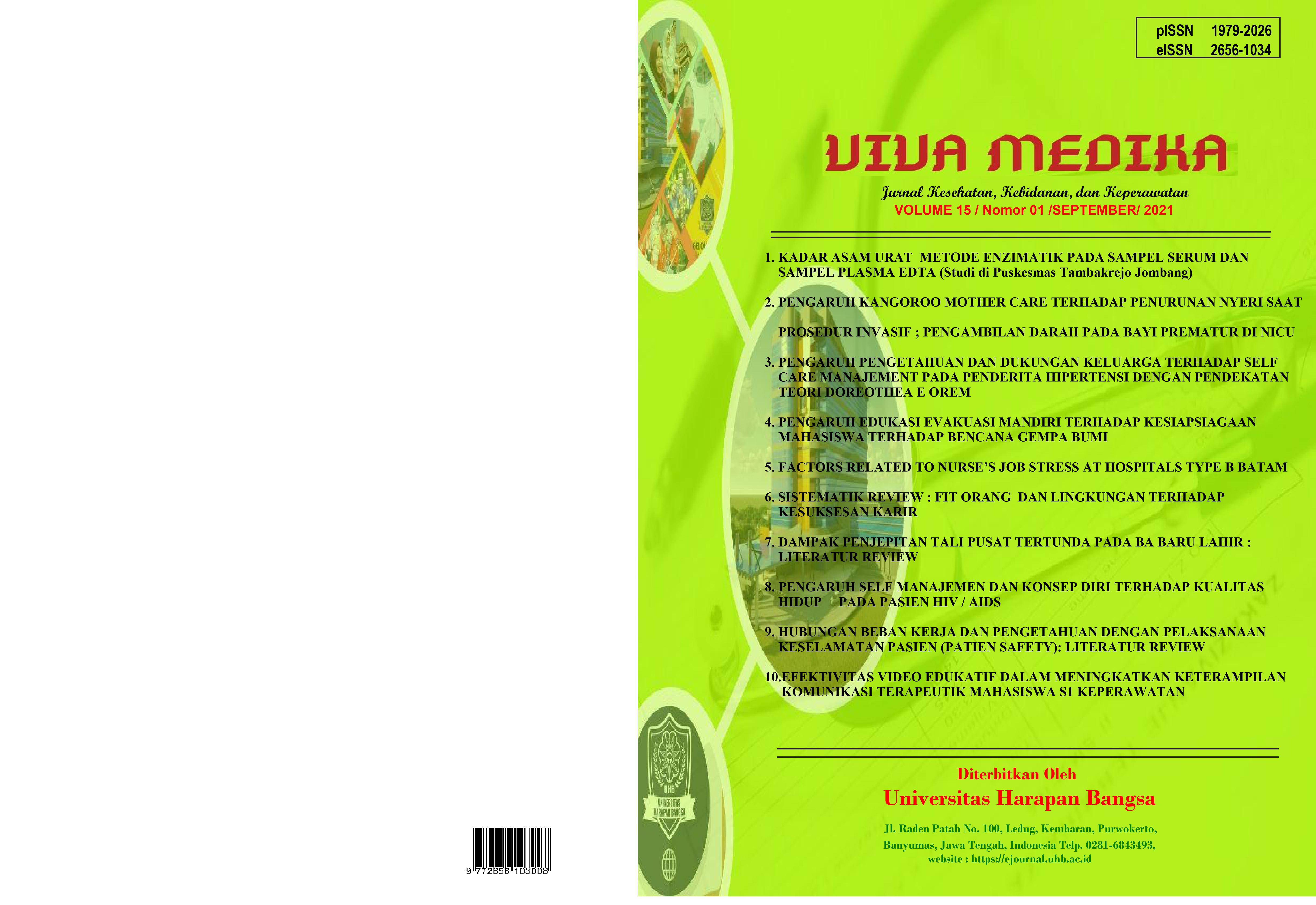 How to Cite
Sulistyowati, S. (2022). DAMPAK PENJEPITAN TALI PUSAT TERTUNDA PADA BAYI BARU LAHIR : LITERATUR REVIEW. Viva Medika: Jurnal Kesehatan, Kebidanan Dan Keperawatan, 15(01), 70-80. https://doi.org/https://doi.org/10.35960/vm.v15i01.683
This work is licensed under a Creative Commons Attribution 4.0 International License.
Submitted paper will be firstly reviewed by the editors to determine whether the paper meet the edition theme and submission guidelines. Papers which meet the theme and the guidelines will be assigned to selected reviewers for peer-reviews. Viva Medika: Jurnal Kesehatan, Kebidanan dan Keperawatan is a double blind peer-reviewed journal which involves reviewers based on their experties relevant to the topic of the paper. Final decision of paper acceptance is solely decided by the editors according to reviewers' comment.
Plagiarism and self-plagiarism are prohibited. Viva Medika: Jurnal Kesehatan, Kebidanan dan Keperawatan uses PlagiarismCheckerX and iThenticate to scan papers for detecting plagiarism. Thus, Appropriate citation and quotation should be used