The Combination of Polyhexamethylene Biguanide and Cadexomer Iodine in Healing Chronic Venous Leg Ulcers: A Case Report
Keywords:
chronic venous ulcers, wound healing, infection control
Abstract
Chronic Venous Leg Ulcers (CVLUs) are vascular diseases and require complex wound care from a patient, wound, health personnel and dressing factors. Cadexomer Iodine (CI) and Polyhexamethylene Biguanide (PHMB) are antimicrobial and broad-spectrum wound washing fluids. The uncontrolled infection will complicate wound healing due to bacteria or plankton from the biofilm stage to infection, which causes a long healing time. Purpose: to determine the effectiveness of the combination of Polyhexamethylene biguanide and Cadexomer Iodine on venous leg ulcer wound healing. Methods: This study is a case study using CVLUs as a sample, with pre-test and post-test designs, patients with CVLUs received topical antimicrobial CI and PHMB interventions on wounds for 7 weeks. The sample in this study used one sample with a pre-post treatment design for seven days.. The instrument uses the Bates Jensen Wound Assessment Tool. Results: The combination of CI and PHMB was shown to improve the healing of CVLUs by controlling bacterial infection in wounds. In the 2nd week, the wound was 26cm x 15cm, the slough was reduced, and the red base wound increased. In the 3rd week, the wound was stage 4, and the granulation increase was 75%. In the 7th treatment, the wound size scale increased 7cmx4cm, the wound became stage 2, and a significant increase in epithelialization was 75%. Conclusion: The combination of PHMB and CI has been shown to control infection at the biofilm stage to critical colonization, reduce odour and significantly control infection, and increase granulation and epithelialization in CVLUs
References
Atkin, Leanne, Zofia Bućko, Elena Conde Montero, Keith Cutting, Christine Moffatt, Astrid Probst, Marco Romanelli, Gregory S. Schultz, and William Tettelbach. 2019. "Implementing TIMERS: The Race against Hard-to-Heal Wounds." Journal of Wound Care 28(Sup3a):S1–50. doi: 10.12968/jowc.2019.28.Sup3a.S1.

Azevedo, Maria-Manuel, Carmen Lisboa, Luís Cobrado, Cidália Pina-Vaz, and Acácio Rodrigues. 2020. "Hard-to-Heal Wounds, Biofilm and Wound Healing: An Intricate Interrelationship." British Journal of Nursing 29(5):S6–13. doi: 10.12968/bjon.2020.29.5.S6.

Bain, Michael A., George J. Koullias, Keith Morse, Santina Wendling, and Michael L. Sabolinski. 2020. "Type I Collagen Matrix plus Polyhexamethylene Biguanide Antimicrobial for the Treatment of Cutaneous Wounds." Journal of Comparative Effectiveness Research 9(10):691–703. doi: 10.2217/cer-2020-0058.

Berenguer Pérez, Miriam, Pablo López‐Casanova, Raquel Sarabia Lavín, Héctor González de la Torre, and José Verdú‐Soriano. 2019. "Epidemiology of Venous Leg Ulcers in Primary Health Care: Incidence and Prevalence in a Health Centre—A Time Series Study (2010‐2014)." International Wound Journal 16(1):256–65. doi: 10.1111/iwj.13026.

Dissemond, Joachim, Bernd Assenheimer, Anke Bültemann, Veronika Gerber, Silvia Gretener, Elisabeth Kohler-von Siebenthal, Sonja Koller, Knut Kröger, Peter Kurz, Severin Läuchli, Christian Münter, Eva-Maria Panfil, Sebastian Probst, Kerstin Protz, Gunnar Riepe, Robert Strohal, Jürg Traber, and Hugo Partsch. 2016. "Compression Therapy in Patients with Venous Leg Ulcers: Compression in Leg Ulcers." JDDG: Journal Der Deutschen Dermatologischen Gesellschaft 14(11):1072–87. doi: 10.1111/ddg.13091.

Dyck, Rebecca, and Stephanie Gerber. 2016. "The Effectiveness of Topical Polyhexamethylene Biguanide (PHMB) Agents for the Treatment of Chronic Wounds: A Systematic Review." Advanced W Ound Healing Surgical Technology InternationalXXIX 45–51(29):7.

Fitzgerald, Daniel J., Paul J. Renick, Emma C. Forrest, Shannon P. Tetens, David N. Earnest, Jillian McMillan, Brett M. Kiedaisch, Lei Shi, and Eric D. Roche. 2017. "Cadexomer Iodine Provides Superior Efficacy against Bacterial Wound Biofilms in Vitro and in Vivo: Cadexomer Iodine Biofilm Efficacy." Wound Repair and Regeneration 25(1):13–24. doi: 10.1111/wrr.12497.

Green, J., R. Jester, R. McKinley, and A. Pooler. 2014. "The Impact of Chronic Venous Leg Ulcers: A Systematic Review." Journal of Wound Care 23(12):601–12. doi: 10.12968/jowc.2014.23.12.601.

Gueltzow, Maria, Poroshat Khalilpour, Katharina Kolbe, and York Zoellner. 2018. "Budget Impact of Antimicrobial Wound Dressings in the Treatment of Venous Leg Ulcers in the German Outpatient Care Sector: A Budget Impact Analysis." Journal of Market Access & Health Policy 6(1):1527654. doi: 10.1080/20016689.2018.1527654.

Guest, Julian F., Graham W. Fuller, and Peter Vowden. 2018. "Venous Leg Ulcer Management in Clinical Practice in the UK: Costs and Outcomes: Health Economic Impact of VLUs in the UK." International Wound Journal 15(1):29–37. doi: 10.1111/iwj.12814.

Hinchliffe, Robert J., Rachael O. Forsythe, Jan Apelqvist, Ed J. Boyko, Robert Fitridge, Joon Pio Hong, Konstantinos Katsanos, Joseph L. Mills, Sigrid Nikol, Jim Reekers, Maarit Venermo, R. Eugene Zierler, and Nicolaas C. Schaper. 2019. "Guidelines of the International Writing Group on the Diabetic Foot on Diagnosis." Wileyonlinelibrary Journal 12. doi: 10.1002/dmrr.3276.

Jenkins, David A., Sundus Mohamed, Joanne K. Taylor, Niels Peek, and Sabine N. van der Veer. 2019. "Potential Prognostic Factors for Delayed Healing of Common, Non‐traumatic Skin Ulcers: A Scoping Review." International Wound Journal 16(3):800–812. doi: 10.1111/iwj.13100.

Jones, Menna Lloyd. 2019. "Wound Care. What Is New in Best Practice: Addressing the Complexities in the Management of Venous Leg Ulcers. Part 1." British Journal of Healthcare Assistants 13(10):6.

Jupiter, Daniel C. 2020. "Transmetatarsal and Minor Amputation Versus Major Leg Amputation: 30-Day Readmissions, Reamputations, and Complications." 7.

Malic, S., K. E. Hill, R. Playle, D. W. Thomas, and D. W. Williams. 2011. "In Vitro Interaction of Chronic Wound Bacteria in Biofilms." Journal of Wound Care 20(12):569–77. doi: 10.12968/jowc.2011.20.12.569.

Mayandi, Venkatesh, Alvin Chua Wen Choong, Chetna Dhand, Fui Ping Lim, Thet Tun Aung, Harini Sriram, Neeraj Dwivedi, Mercy Halleluyah Periayah, Sreepathy Sridhar, Mobashar Hussain Urf Turabe Fazil, Eunice Tze Leng Goh, Gorka Orive, Roger W. Beuerman, Timothy Mark Sebastian Barkham, Xian Jun Loh, Zhao-Xun Liang, Veluchamy Amutha Barathi, Seeram Ramakrishna, Si Jack Chong, Navin Kumar Verma, and Rajamani Lakshminarayanan. 2020. "Multifunctional Antimicrobial Nanofiber Dressings Containing ε-Polylysine for the Eradication of Bacterial Bioburden and Promotion of Wound Healing in Critically Colonized Wounds." ACS Applied Materials & Interfaces 12(14):15989–5. doi: 10.1021/acsami.9b21683.

Metcalf, Daniel G., David Parsons, and Philip G. Bowler. 2016. "Clinical Safety and Effectiveness Evaluation of a New Antimicrobial Wound Dressing Designed to Manage Exudate, Infection and Biofilm." 11.

Norman, Gill, Maggie J. Westby, Amber D. Rithalia, Nikki Stubbs, Marta O. Soares, and Jo C. Dumville. 2018. "Dressings and Topical Agents for Treating Venous Leg Ulcers" edited by Cochrane Wounds Group. Cochrane Database of Systematic Reviews. doi: 10.1002/14651858.CD012583.pub2.

Ousey, Karen, Angela Walker, Jacalyn Brace, Franck Duteille, Astrid Probst, Maria Hughes, Cathy Milne, and Windy Cole. 2019. "A Multipurpose Dressing: A Clinical Review of the Absorption, Debridement and Healing Properties of Aquacel Foam." Journal of Wound Care 28(Sup9a):S1–23. doi: 10.12968/jowc.2019.28.Sup9a.S1.

Phillips, Ceri J., Ioan Humphreys, Dan Thayer, Muhammad Elmessary, Huw Collins, Chris Roberts, Gurudutt Naik, and Keith Harding. 2020. "Cost of Managing Patients with Venous Leg Ulcers." International Wound Journal 17(4):1074–82. doi: 10.1111/iwj.13366.

Pugliese, Douglas J. 2016. "Infection in Venous Leg Ulcers: Considerations for Optimal Management in the Elderly." Drugs & Aging 33(2):87–96. doi: 10.1007/s40266-016-0343-8.

Roche, Eric D., Emma J. Woodmansey, Qingping Yang, Daniel J. Gibson, Hongen Zhang, and Gregory S. Schultz. 2019. "Cadexomer Iodine Effectively Reduces Bacterial Biofilm in Porcine Wounds Ex Vivo and in Vivo." International Wound Journal 16(3):674–83. doi: 10.1111/iwj.13080.

Roy, Sashwati, Suman Santra, Amitava Das, Sriteja Dixith, Mithun Sinha, Subhadip Ghatak, Nandini Ghosh, Pradipta Banerjee, Savita Khanna, Shomita Mathew-Steiner, Piya Das Ghatak, Britani N. Blackstone, Heather M. Powell, Valerie K. Bergdall, Daniel J. Wozniak, and Chandan K. Sen. 2020. "Staphylococcus Aureus Biofilm Infection Compromises Wound Healing by Causing Deficiencies in Granulation Tissue Collagen:" Annals of Surgery 271(6):1174–85. doi: 10.1097/SLA.0000000000003053.

Sams-Dodd, Jeanette, and Frank Sams-Dodd. 2020. "Micropore Particle Technology Promotes Wound Healing, Whereas Polyhexamethylene Biguanide Causes Tissue Degeneration: A Case Report." 32(3):6.

Sanaei, Leila, and Maryam Tahmasebpoor. 2021. "Physical Appearance and Arsenate Removal Efficiency of Fe(III)-Modified Clinoptilolite Beads Affected by Alginate-Wet-Granulation Process Parameters." Materials Chemistry and Physics 259:124009. doi: 10.1016/j.matchemphys.2020.124009.

Schwarzer, Saskia. 2019. "The Efficacy of Topical Agents Used in Wounds for Managing Chronic Biofilm Infections: A Systematic Review." Journal of Infection 80(3):261–70. doi: https://doi.org/10.1016/j.jinf.2019.12.017.

Sermsathanasawadi, Nuttawut, Jarunee Jieamprasertbun, Kanin Pruekprasert, Khamin Chinsakchai, Chumpol Wongwanit, Chanean Ruangsetakit, and Pramook Mutirangura. 2020. "Factors That Influence Venous Leg Ulcer Healing and Recurrence Rate after Endovenous Radiofrequency Ablation of Incompetent Saphenous Vein." Journal of Vascular Surgery: Venous and Lymphatic Disorders 8(3):452–57. doi: 10.1016/j.jvsv.2019.11.003.

Settipalli, Sarala, P. Sandeep, AY Lakshmi, and V. Sivakumar. 2019. "Vascular Access Related Complications with Ipsilateral Upper Limb Oedema In Hemodialysis." Indian Journal of Vascular and Endovascular Surgery 6(2):10.
Shahram, Paydar, Ziaeian Bijan, Dehghanian Amirreza, Heidarpour Mohsen, Alavi Moghadam Roshanak, Dalfardi Behnam, and Hallaj Karladani Abbas. n.d. "A Comparison of the Effects of Topical Prolavacid Solution (a Polyhexamethylene Biguanide-Based Wound Cleanser) and Medihoney Ointment in a Rat Model of Cutaneous Wound." 6.

Skog, E., B. Arnesjo, T. Troeng, J. E. Gjores, L. Bergljung, J. Gundersen, T. Hallbook, Y. Hessman, L. Hillstrom, T. Mansson, U. Eilard, B. Ekloff, G. Plate, and L. Norgren. 1983. "A Randomized Trial Comparing Cadexomer Iodine and Standard Treatment in the Out-Patient Management of Chronic Venous Ulcers." British Journal of Dermatology 109(1):77–83. doi: 10.1111/j.1365-2133.1983.tb03995.x.

Sweere, Johanna M., Heather Ishak, Vivekananda Sunkari, Michelle S. Bach, Robert Manasherob, Koshika Yadava, Shannon M. Ruppert, Chandan K. Sen, Swathi Balaji, Sundeep G. Keswani, Patrick R. Secor, and Paul L. Bollyky. 2020. "The Immune Response to Chronic Pseudomonas Aeruginosa Wound Infection in Immunocompetent Mice." Advances in Wound Care 9(2):35–47. doi: 10.1089/wound.2019.1039.

Tate, Sophia, Annie Price, and Keith Harding. 2018. "Dressings for Venous Leg Ulcers." 7.
Worsley, Anna, Kristin Vassileva, Janice Tsui, Wenhui Song, and Liam Good. 2019. "Polyhexamethylene Biguanide:Polyurethane Blend Nanofibrous Membranes for Wound Infection Control." Polymers 11(5):915. doi: 10.3390/polym11050915.

Xia, Guixue, Dongqing Zhai, Yue Sun, Lin Hou, Xiaofan Guo, Lixia Wang, Zhijian Li, and Feng Wang. 2020. "Preparation of a Novel Asymmetric Wettable Chitosan-Based Sponge and Its Role in Promoting Chronic Wound Healing." Carbohydrate Polymers 227:115296. doi: 10.1016/j.carbpol.2019.115296.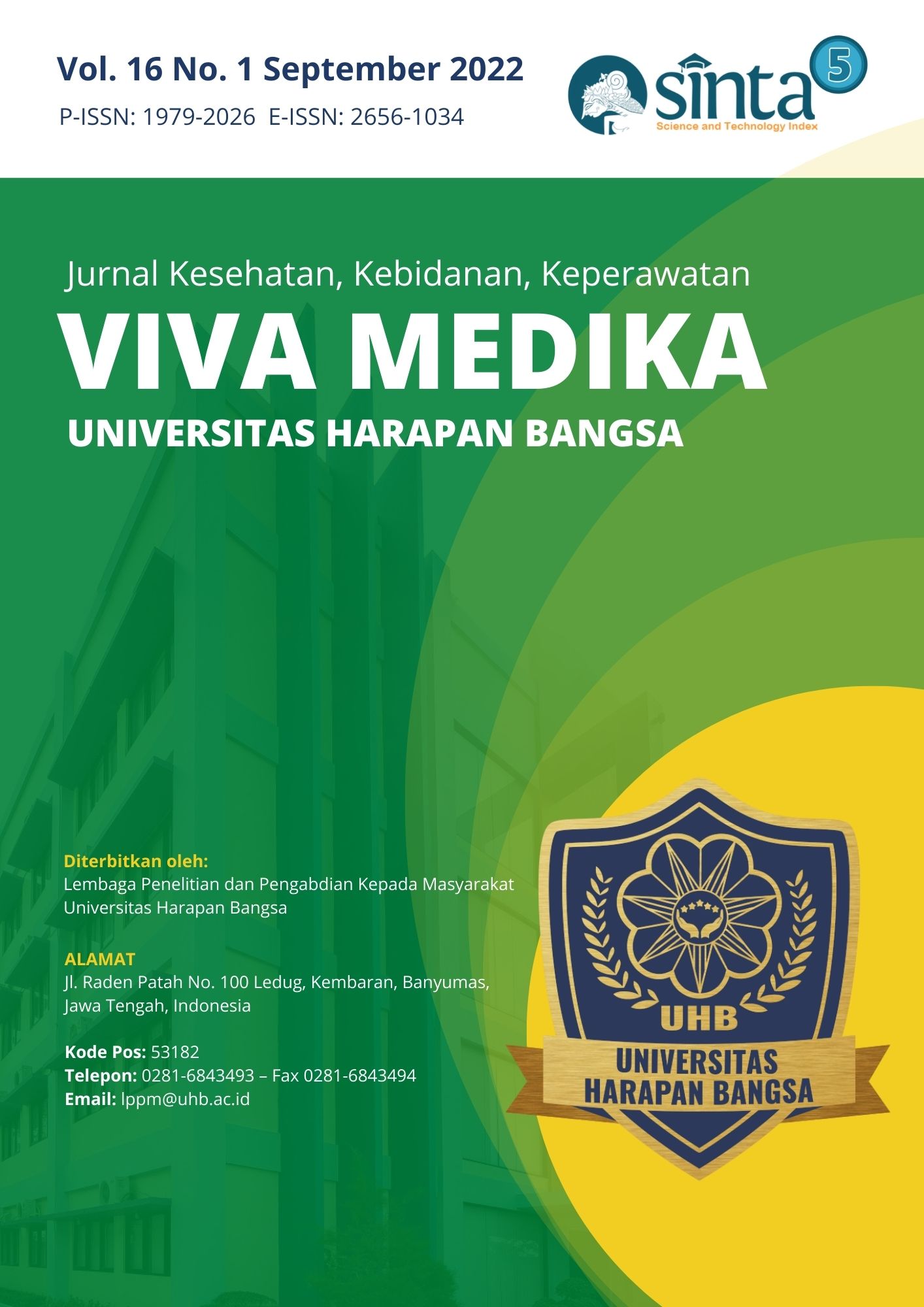 How to Cite
Burhan, A., & Sebayang, S. (2022). The Combination of Polyhexamethylene Biguanide and Cadexomer Iodine in Healing Chronic Venous Leg Ulcers: A Case Report. Viva Medika: Jurnal Kesehatan, Kebidanan Dan Keperawatan, 16(1), 12-21. https://doi.org/https://doi.org/10.35960/vm.v16i1.832
This work is licensed under a Creative Commons Attribution 4.0 International License.
Submitted paper will be firstly reviewed by the editors to determine whether the paper meet the edition theme and submission guidelines. Papers which meet the theme and the guidelines will be assigned to selected reviewers for peer-reviews. Viva Medika: Jurnal Kesehatan, Kebidanan dan Keperawatan is a double blind peer-reviewed journal which involves reviewers based on their experties relevant to the topic of the paper. Final decision of paper acceptance is solely decided by the editors according to reviewers' comment.
Plagiarism and self-plagiarism are prohibited. Viva Medika: Jurnal Kesehatan, Kebidanan dan Keperawatan uses PlagiarismCheckerX and iThenticate to scan papers for detecting plagiarism. Thus, Appropriate citation and quotation should be used