KADAR ASAM URAT METODE ENZIMATIK PADA SAMPEL SERUM DAN SAMPEL PLASMA EDTA (Studi di Puskesmas Tambakrejo Jombang)
Sri Sayekti

STIKes Insan Cendekia Medika Jombang
Keywords:
Asam Urat, Metode Enzimatik, Sampel serum dan sampel Plasma EDTA
Abstract
Uric acid is the end product of purine metabolism. Purines are amine compounds that are part of the protein that make up the body. Uric acid is distributed to blood plasma, synovial fluid, liver and several other organs, then excreted by the kidneys in urine. Examination of uric acid levels is usually used serum and plasma EDTA samples. This study aims to determine the differences in uric acid levels with the enzymatic method in serum and plasma EDTA samples.
This research uses analytic observation type with cross sectional approach.  The population was all residents who participated in the counseling activities on the dangers of smoking, amounting to 33 people, a sample of 15 people taken by purposive sampling aged> 40 years. The data were processed using editing, coding, tabulating and analyzed using the independent T-test statistical test at an error level of 5%. The results showed that the serum sample had an average uric acid level of 6.76 mg / dl while the uric acid level of the EDTA plasma sample had an average of 6.79 mg / dl. The independent T-test was tolerated p = 0.729, p>α , H0 is rejected. The study concluded that there was no significant difference between the results of examining uric acid levels using serum samples and EDTA plasma samples.
References
Andry.S. Arif S.U.2009. Analisis Faktor-faktor yang mempengaruhi Kadar asam urat pada pekerja kantor di desa karang turi, kecamatan bumiayu, kabupaten Brebes. Jurnal Keperawatan Soedirman ( The Soedirman Journal of Nurshing).
Departemen Kesehatan Republik Indonesia Pusat Laboratorium Kesehatan. 2002. Pedoman Praktek Laboratorium yang Benar.
Evelyn.C.P. 2008. Cara Mudah Mencegah, Mengobati Asam Urat dan Hipertensi. Jakarta : PT. Gramedia.
Hensen. TRP. 2007. Hubungan Konsumsi Purin Dengan Hiperurisemia pada Suku Bali di Daerah Pariwisata Pedesaan. FK Unud.
Lingga L. 2012. Bebas Penyakit Asam Urat Tanpa Obat. Jakarta : Agromedia Pustaka.
Martiningsih M.a. Otnel D., 2016. Gambaran Kadar Asam Urat Darah Metode Basah (Uricase-pap) Pada Sampel Serum dan Plasma EDTA. Jurnal Teknologi Laboratorium Vol 5 No 1 Poltekes Kemenkes Yogyakarta.

Mulyono,B. 2010. Pemantapan Mutu Internal Laboratorium.Yogyakarta : Alfa Media.
Murray R.K., Granner, D. K.,& Rodwell, V. W, Biokimia Harper (27 ed). Jakarta:Buku Kedokteran EGC;2019
Riswanto.2013. Pemeriksaan Lab Hematologi.Yogyakarta : Alfamedia dan Kanal Medika
Yulianti A.T, Perbedaan Pemeriksaan Kadar Asam Urat sampel Serum dan Plasma EDTA. http://repository.unimus.ac.id/884/
Wulandari S., Majidah L., dan Umaysaroh. Perbedaan Kadar Asam Urat Metode Enzimatik pada Sampel Serum dan Plasma EDTA. http://repo.stikesicme-jbg.ac.id/842/1/151310040%20SRI%20WULANDARI%20ARTIKEL%281%29.pdf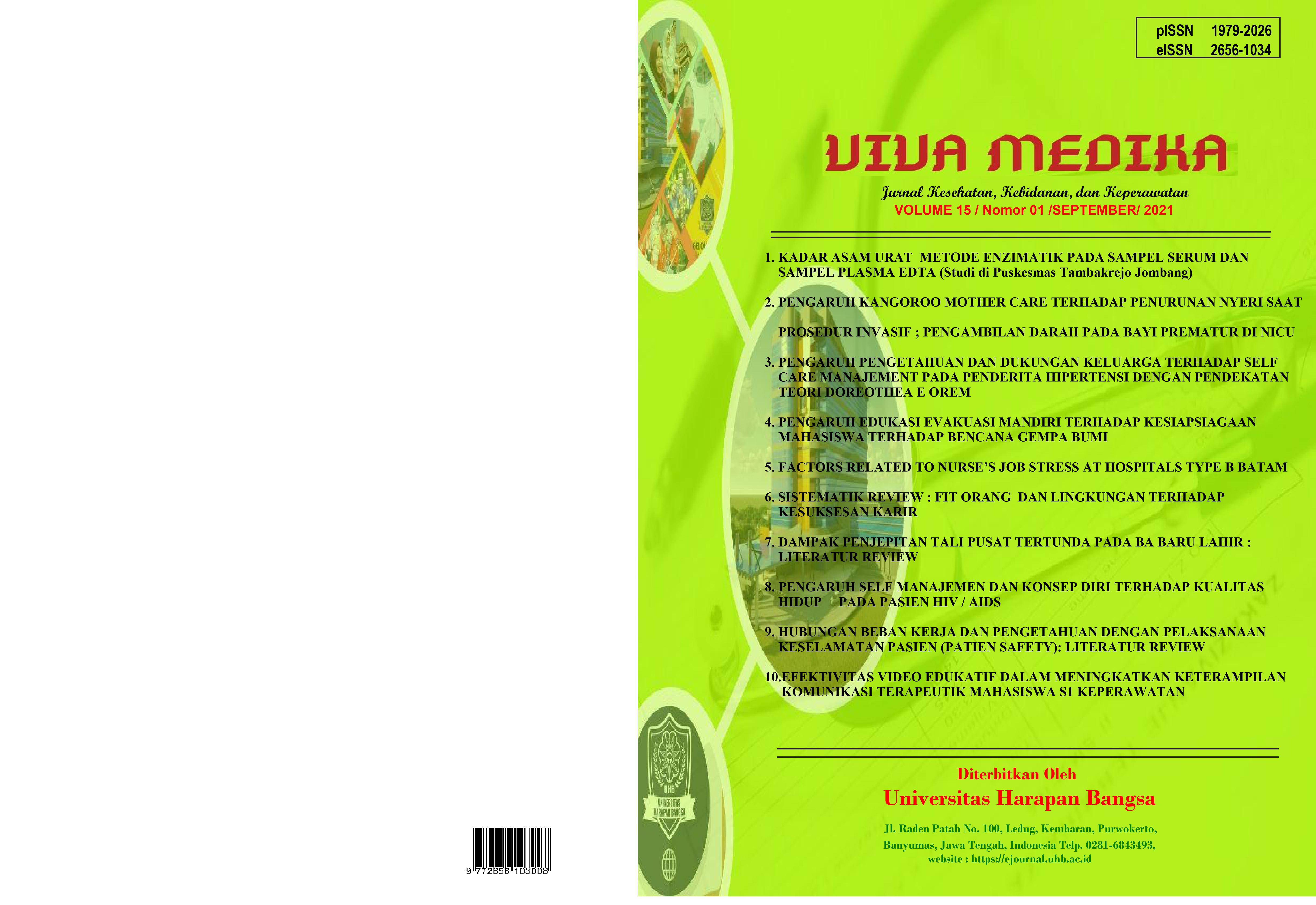 How to Cite
Sayekti, S. (2022). KADAR ASAM URAT METODE ENZIMATIK PADA SAMPEL SERUM DAN SAMPEL PLASMA EDTA (Studi di Puskesmas Tambakrejo Jombang). Viva Medika: Jurnal Kesehatan, Kebidanan Dan Keperawatan, 15(01), 1-7. https://doi.org/https://doi.org/10.35960/vm.v15i01.607
Submitted paper will be firstly reviewed by the editors to determine whether the paper meet the edition theme and submission guidelines. Papers which meet the theme and the guidelines will be assigned to selected reviewers for peer-reviews. Viva Medika: Jurnal Kesehatan, Kebidanan dan Keperawatan is a double blind peer-reviewed journal which involves reviewers based on their experties relevant to the topic of the paper. Final decision of paper acceptance is solely decided by the editors according to reviewers' comment.
Plagiarism and self-plagiarism are prohibited. Viva Medika: Jurnal Kesehatan, Kebidanan dan Keperawatan uses PlagiarismCheckerX and iThenticate to scan papers for detecting plagiarism. Thus, Appropriate citation and quotation should be used