Pengaruh Senam Disminore Terhadap Skala Nyeri Disminore pada Remaja Putri Di Dusun Kenayan Wedomartani, Ngemplak, Sleman DIY
Anita Liliana

Universitas Respati Yogyakarta

Lala Budi Fitriana

Universitas Respati Yogyakarta

Nurul Febrina Syahidah

Universitas Respati Yogyakarta
Keywords:
Remaja, Disminore, Senam disminore
Abstract
Background : One of the problems often faced by young women is menstrual pain (dysmenorrhea). The rate of dysmenorrhea in the world is very large, on average more than 50% of women in every country experience dysmenorrhea. In Indonesia, the incidence of dysmenorrhea is found as much 64.25%, most commonly found in adolescents. Altough generally harmless, it can interfere with daily activities. In addition to using pharmacology, dysmenorrhea can be overcome with non-pharmacological techniques, namely by doing dysmenorrhea exercises.
Objective : To determine the effect of dysmenorrhea exercise on pain scale during dysmenorrhea in adolescent girls in Kenayan Hamlet, Wedomartani, Ngemplak, Sleman DIY.
Methods : The research design used a quasi-experimental design with pre-test and post-test design without control. The subjects of the study were the young women of the village of Kenayan who experienced dysmenorrhea as many as 38 respondents. Pain scale is measured by NRS. Statistical test using T-Tes Pired Test.
Results : The pain scale before the dysmenorrhea exercise is done 5,00 ±1727 (1-9) and after the dysmenorrhea exercise is done it is 2,00±1,109 (0-4). Based on the Paired T-Test, it is known that the p-value = 0,000.
Conclusion : There is an effect of dysmenorrhea exercise on the scale of dysmenorrhea in young women in the village of Kenayan.
Keywords : Dysmenorrhea Gymnastics,Pain, Youth
References
Arini, Diyah, Dini Indah Saputri, Dwi Supriyanti, dan Dwi Ernawati. 2020. "Pengaruh Senam Yoga Terhadap Penurunan Intensitas Nyeri Haid Pada Remaja Mahasiswi Keperawatan STIKES Hang Tuah Surabaya." Borneo Nursing Journal (BNJ) 2(1): 46–54

Anurogo, D, dan A Wulandari. 2011. Cara Jitu Mengatasi Nyeri Haid. Yogyakarta: ANDI.

Idaningsih & Oktarini. 2020. Pengaruh Senam Dismenore Terhadap Penurunan Intensitas Nyeri Dismenore Pada Remaja Putri Di SMK YPIB Majalengka Kabupaten Majalengka Tahun 2019. Jurnal Ilmiah Indonesia. Vol 5, No 2 Februari.

Kowalski, R. 2014. Buku Pintar Menstruasi. 10th ed. Jakarta: EGC

Laila, N. 2015. Kesehatan Reproduksi Remaja dan Wanita. Jakarta: Salemba Medika.

Manuaba. 2009. Memahami Kesehatan Reproduksi Wanita. Jakarta: EGC.

Novarita, dan Narulu Kurniati. 2017. "Pengaruh Pemberian Jus Wortel Terhadap Penurunan Skala Dismenore Primer pada Mahasiswi DIV Bidan Pendidik Semester IV Di Universitas Aisyah Yogyakarta." Universitas Aisyah Yogyakarta.

Santi, Lina Silvia. 2020. "Pengaruh Senam Disminore Terhadap Penurunan Nyeri Menstruasi pada Remaja Usia 16-17 Tahun." Jurnal Darul Azhar 8(1): 52–58.

Sadjarwo, Galuh. 2016. Pengaruh Latihan Senam Dismenore Terhadap Nyeri Dismenore Pada Mahasiswi Fisioterapi Di Universitas 'Aisyiyah Yogyakarta.

Silaen, R, Ani, dan Putri. 2019. "Prevelensi Dysmenorrhea dan Karakteristiknya Pada Remaja Putri Di Denpasar." JURNAL MEDIKA UDAYANA 8(11): 1–6.

Smeltzer, dan Bare. 2013. Buku Ajar Keperawatan Medikal Bedah. 8 ed. Jakarta: EGC.

Sugiono. 2016. Metode Penelitian Kuantitatif, Kualitatif R&D. Bandung: CV Alfabeta

Sukarmi, W. 2013. Buku Ajar Keperawatan Maternitas. Yogyakarta: Nuha Medika.

Wariyah, Herry Sugiri, dan Imam Makhrus. 2019. "Faktor-Faktor yang Berhubungan dengan Dismenorea pada Siswi SMP Negeri 3 Karawang Barat Kabupaten Karawang Tahun 2018." Jurnal Kebidanan Indonesia 10(1): 39–48.

Wulanda, Clara, Amir Luthfi, dan Ridha Hidayat. 2020. "Efektivitas Senam Dismenore Pada Pagi dan Sore Hari Terhadap Penanganan Nyeri Haid Pada Remaja Putri Saat Haid Di SMPN 2 Bangkinang Kota Tahun 2019." Jurnal Kesehatan Tambusai 1(1): 1–11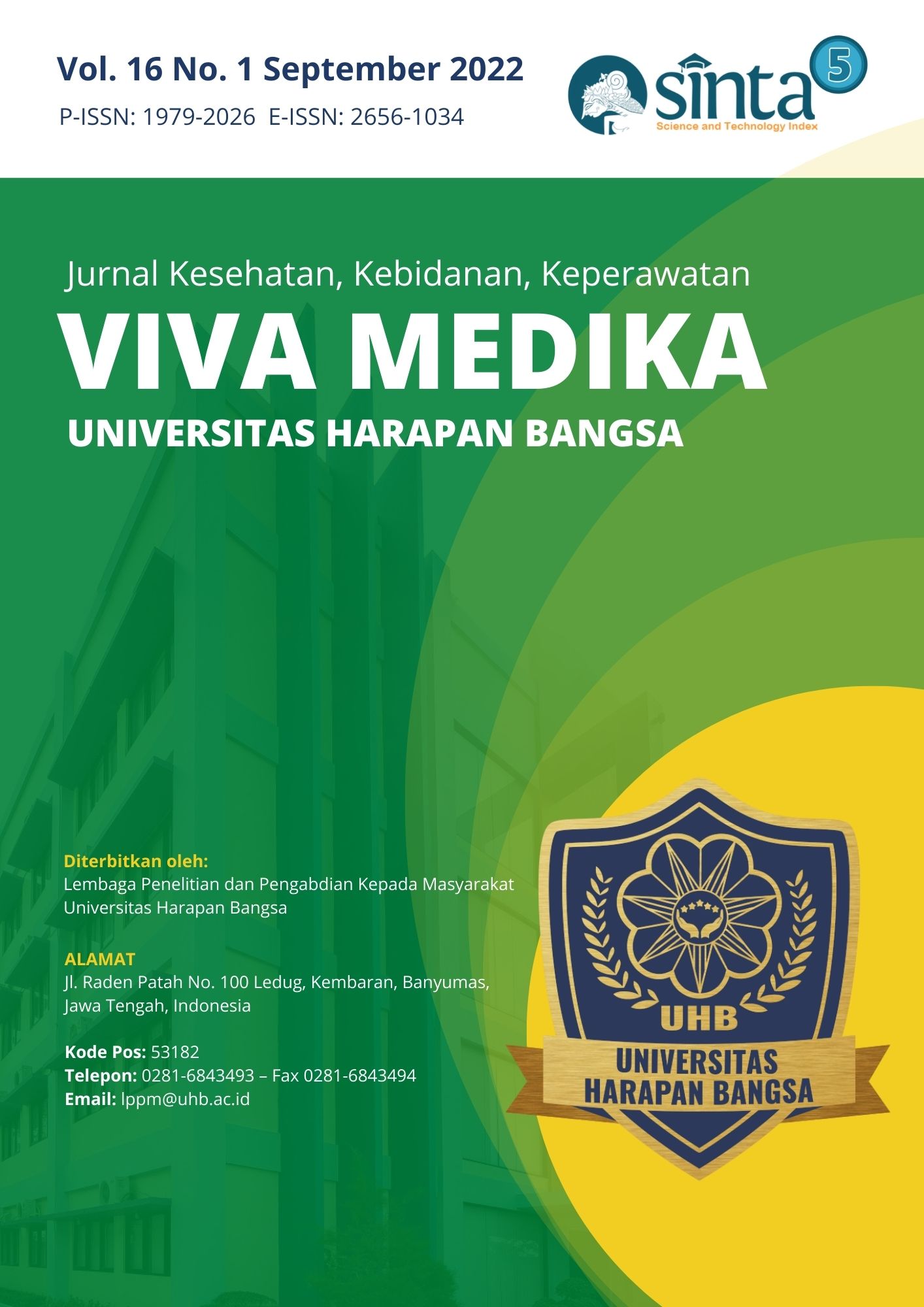 How to Cite
Liliana, A., Fitriana, L., & Syahidah, N. (2022). Pengaruh Senam Disminore Terhadap Skala Nyeri Disminore pada Remaja Putri Di Dusun Kenayan Wedomartani, Ngemplak, Sleman DIY. Viva Medika: Jurnal Kesehatan, Kebidanan Dan Keperawatan, 16(1), 72-79. https://doi.org/https://doi.org/10.35960/vm.v16i1.739
This work is licensed under a Creative Commons Attribution 4.0 International License.
Submitted paper will be firstly reviewed by the editors to determine whether the paper meet the edition theme and submission guidelines. Papers which meet the theme and the guidelines will be assigned to selected reviewers for peer-reviews. Viva Medika: Jurnal Kesehatan, Kebidanan dan Keperawatan is a double blind peer-reviewed journal which involves reviewers based on their experties relevant to the topic of the paper. Final decision of paper acceptance is solely decided by the editors according to reviewers' comment.
Plagiarism and self-plagiarism are prohibited. Viva Medika: Jurnal Kesehatan, Kebidanan dan Keperawatan uses PlagiarismCheckerX and iThenticate to scan papers for detecting plagiarism. Thus, Appropriate citation and quotation should be used