Efektivitas Ekstrak Daun Jambu Biji (Psidisium Guajava L) Terhadap Penurunan Frekuensi Diare pada Anak Usia 6-12 Tahun di Puskesmas Aceh Besar
Cut Rara Hasviana

Universitas Abulyatama

Nanda Desreza

Universitas Abulyatama

Riyan Mulfianda

Universitas Abulyatama
Keywords:
Ekstrak Daun Jambu Biji (Psidisium Guajava L), Diare, Anak
Abstract
In developing countries, diarrhea is a common disease and a leading cause of mortality in children. Moreover, the guava plant (Psidium guajava L) is known by the Indonesian people as herbal medicine that may serve as a remedy for various diseases. One of the best-known benefits of guava leaf for people in Indonesia is that it can act as an antidiarrheal. This study aimed to examine the effectiveness of guava leaf extract (Psidium Guajava L.) in diarrhea treatment among children aged 6-12 years in the working area of Krueng Barona Jaya Community Health Center. This study was a quasi-experiment of One-Group Pretest-Posttest Design. The population member in this study was mothers with children aged 6-12 years old suffering from diarrhea in the working area of Krueng Barona Jaya Public Health Center. The purposive sampling technique was employed to select 15 respondents. Data collection was done by distributing questionnaires to respondents. This study was conducted from 27 June to 4 July 2022. The data were processed using editing, coding, transferring, and tabulating, and analyzed using the T-test at an error level of 0,05. The results showed that is effective in diarrhea treatment for children aged 6-12 years old with a p-value of 0.000
References
Aizah, S., Risnasari, N., & Listyawati, N. (2022). EFEKTIVITASPENGGUNAAN REBUSAN TUMBUKAN DAUN. Jurnal Edunursing, 6(1), 20–24.

Beyer, M., Lenz, R., & Kuhn, K. A. (2006). Health Information Systems. In IT - Information Technology (Vol. 48, Issue 1). https://doi.org/10.1524/itit.2006.48.1.6

Dian Vita Sari, R. M. (2019). Efektivitas Ekstrak Daun Jambu Biji (Psidium Guajava L) Dengan Pengobatan Tradisional Dan Pengobatan Modern Pada Balita Diare Akut Di Desa Ulee Rubek Kabupaten Aceh Utara Tahun 2019. Majalah Ilmiah, 11(6), 1–5.

dr. Siswanto, MHP., D. (2019). Laporan Nasional Riskesdas 2018. Kementerian Kesehatan RI, 1(1), 1.

Fratiwi, Y. (2015). THE POTENTIAL OF GUAVA LEAF ( Psidium guajava L . ) FOR DIARRHEA. Jurnal Majority, 4(januari), 113–118.

Hidayati, E. L. N. (2016). Pengaruh Pemberian Ekstrak Daun Jambu Biji Terhadap Penurunan Frekuensi Diare Pada Anak Di Dusun Meluke Desa Sidomulyo Kecamatan Deket Lamongan (p. 15).

Ibrahim, I., Sartika, R. A., Triyanti, & Permatasari, T. E. (2021). Faktor-Faktoryang Berhubungan dengan Kejadian Diare pada Siswa Sekolah Dasar di Kabupaten Lebak, Provinsi Banten, Indonesia. Indonesian Journal of Public Health Nutrition, 2(1), 34–43.

Indah Wasliah, Syamdarniati, D. A. (2020). Pemberian Edukasi Kesehatan tentang Pencegahan Diare pada Anak Di Posyandu Wilayah Kerja Puskesmas Dasan Agung Kota Mataram, NTB. Jurnal Abdimas Kesehatan Perintis, 2(1), 13–16. https://jurnal.stikesperintis.ac.id/index.php/JAKP/article/download/431/250/

Noer Q, Sri SS, D. R. (2019). Uji Aktivitas Antibakteri Ekstrak Daun Jambu Biji (Psidisium Guajava L) Terhadap Bakteri Escherichia Coli dan Vibrio cholera. Jurnal Acta Pharm Indo, 7(2), 51–57.

Nunggut, Y. (2020). Uji efektivitas ekstrak daun jambu biji ( psidium guajava linn) terhadap pertumbuhan bakteri escherichia coli. 40.

Purwanti, A., Aziz, A., R, A. D., & Fitri Riyadi. (2017). Formulasi uji aktivitas ekstrak daun randu dan daun jambu biji sebagai anti diare. Jurnal Inovasi Proses, 2(1.3.2017), 1–7. https://www.academia.edu/3431

UNICEF. (2016). One is too many Ending child deaths from pneumonia and diarrhoea. UNICEF.
https://data.unicef.org/wpcontent/uploads/2016/11/UNICEFPneumonia-Diarrhoea-report2016-web-version_final.pdf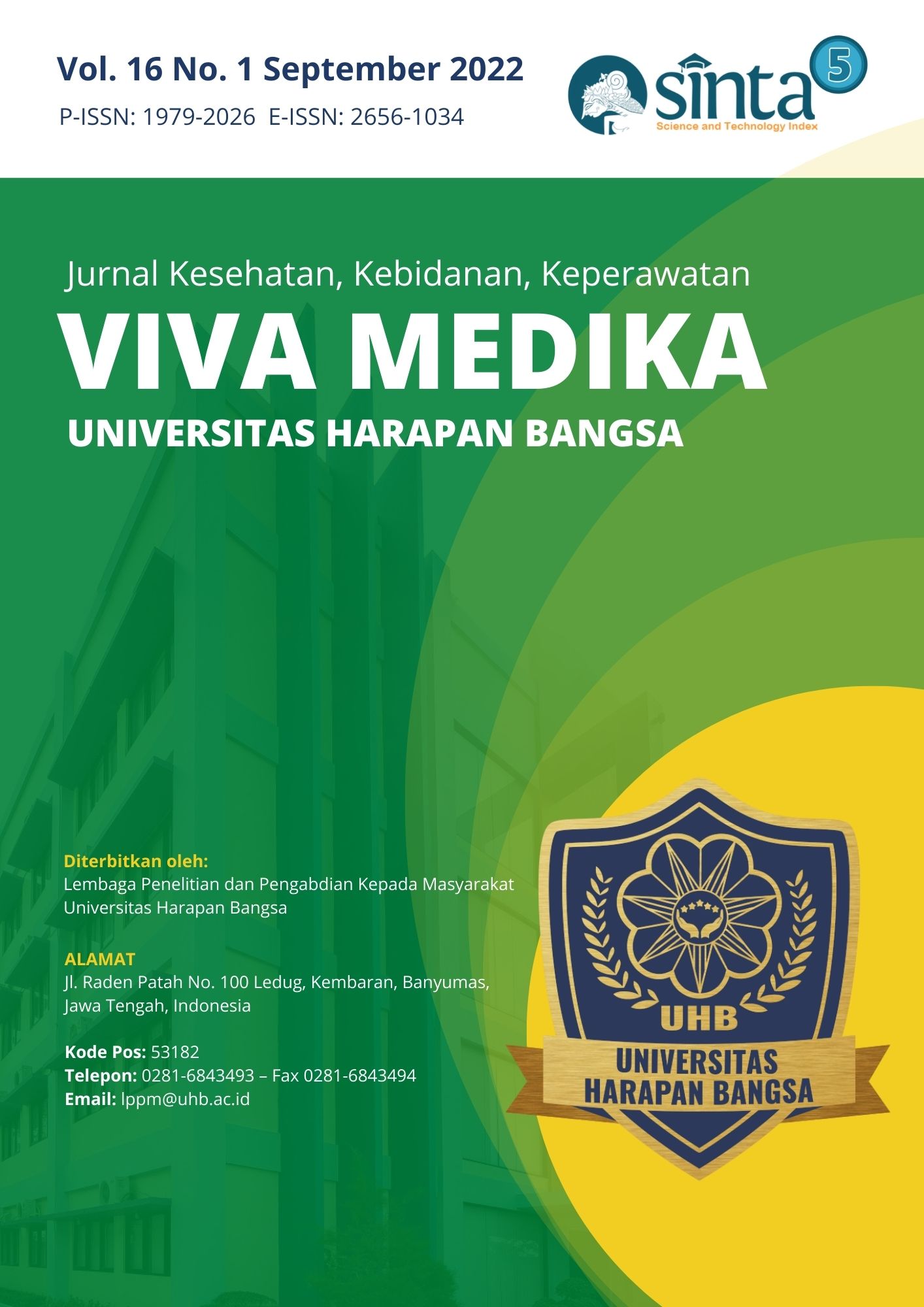 How to Cite
Hasviana, C., Desreza, N., & Mulfianda, R. (2022). Efektivitas Ekstrak Daun Jambu Biji (Psidisium Guajava L) Terhadap Penurunan Frekuensi Diare pada Anak Usia 6-12 Tahun di Puskesmas Aceh Besar. Viva Medika: Jurnal Kesehatan, Kebidanan Dan Keperawatan, 16(1), 44-52. https://doi.org/https://doi.org/10.35960/vm.v16i1.852
This work is licensed under a Creative Commons Attribution 4.0 International License.
Submitted paper will be firstly reviewed by the editors to determine whether the paper meet the edition theme and submission guidelines. Papers which meet the theme and the guidelines will be assigned to selected reviewers for peer-reviews. Viva Medika: Jurnal Kesehatan, Kebidanan dan Keperawatan is a double blind peer-reviewed journal which involves reviewers based on their experties relevant to the topic of the paper. Final decision of paper acceptance is solely decided by the editors according to reviewers' comment.
Plagiarism and self-plagiarism are prohibited. Viva Medika: Jurnal Kesehatan, Kebidanan dan Keperawatan uses PlagiarismCheckerX and iThenticate to scan papers for detecting plagiarism. Thus, Appropriate citation and quotation should be used